Please call to schedule your next appointment.
COVID-19 VACCINE NOW AVAILABLE:

If you are a current LCTHC patient age 18 years or older and would like to be placed on our list to receive a vaccine for COVID-19, please call: (707)263-8382 option #9 or submit the information below. (If you are a current LCTHC Pediatrics patient age 5 to 17 years and would like to recieve the Pfizer vaccine please call: (707)263-8382 ext. 1711)
Our Promise to You
We are dedicated to keeping our whole community healthy by providing access to affordable, quality health care to our patients. We can work with virtually any insurance so you get every benefit possible. We always recommend the same treatment that we would for our own family members; this ensures that you understand your options and that you receive efficient high quality medical care.
Lake County Tribal Health provides primary medical care for all of your chronic medical needs such as diabetes, high blood pressure, etc. as well as treatment for acute illness and injuries. We also provide ongoing continuing care through child exams, immunizations, health education, annual screening exams, and much more.
Download our General Services brochure (pdf)
HEALTH TIP - The Good News About Cravings
Maybe you have a sweet tooth and the thought of cutting back on sweets sounds almost as bad as cutting them out altogether. The good news is that cravings do go away and preferences change. As you eating habits become healthier, foods that you used to love may seem too rich or too sweet and you may find yourself craving healthier options.
ONLINE PHARMACY
Please visit the LCTHC Online Pharmacy & Refills System for online access to various Pharmacy services.
TRIBAL HEALTH PEDIATRICS & OBSTETRICS CLINIC
Now open at 359 Lakeport Boulevard (the former Blockbuster building), our new arrival gives us the ability to provide comprehensive healthcare for women and children in our community. See our services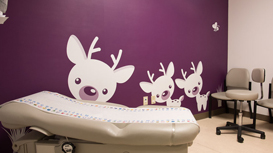 TRAUMATIC STRESS
How to Recover From Disasters and Other Traumatic Events
Adapted By Angela Knight, LMFT
The impact of a natural disaster or traumatic event goes far beyond physical damage. The emotional toll can result in a wide range of intense, confusing, and sometimes frightening emotions. Just as it takes time to clear the rubble and repair the damage, it takes time to recover your emotional equilibrium and rebuild your life. There are specific things you can do to help yourself and your loved ones cope with the emotional aftermath of the traumatic event. Keep reading...
LATEST NEWS

After-Hours Healthcare Coverage
We are dedicated to making sure that as a Patient of the Lake County Tribal Health Consortium, or Tribal Health Pediatrics and Obstetrics, that you receive the best Medical, Dental, and Human Service care we can provide, 24-hours a day, seven days a week. We also recognize that sometimes your healthcare needs arise when we are not open for service.
To meet that challenge we have contracted with FONEMED, an after-hours Nurse Triage and Healthcare Support Service. You can be connected to the service by calling the Lake County Tribal Health Clinic, or Tribal Health Pediatrics and Obstetrics, at any time we are closed.
Your call will be answered by a Registered Nurse. The Nurse will guide you and make every effort to support whatever your, or your families, healthcare need might be.
Calls to the FONEMED Nurse Hotline will end one of three ways, all in the best support for your care:
The Nurse will guide you and help you resolve your healthcare need or
The Nurse will provide short term Triage to get you through until we re-open or
The Nurse will recommend that you seek immediate medical care at the nearest emergency department.
In all cases FONEMED will contact the Lake County Tribal Health Consortium, or Tribal Health Pediatrics and Obstetrics Clinic, on the next business day to let your Primary Care Provider know what happened. Our hope is that our partnership with the FONEMED will provide you with the 24-hour healthcare support that you and your family deserve.